Vejen til The Big Show
Historien om baseball er lige så lang som et Sammy Sosa homerun... I 1869 blev det første professionelle baseballhold i USA stiftet.
En af de største legender inden for Baseball er nok - Babe Ruth.  Hvor den eneste rigtigt kendte Dansker var Olaf Henriksen
I dag er der 30 hold i the Major Leagues. Hvert Major League hold har nogle såkaldte 'underhold', der består af tre niveauer; AAA, AA, og A (AAA er rækken lige under the Major Leagues). Disse hold bliver brugt til at gøre spillerne parate til 'The Big Show', som the Major Leagues også kaldes. Hver Major League Club har et hold i hver række, nogle helt op til 2 i A-rækken. Man behøver ikke havde spillet i AAA for at "rykke op" til the Major Leagues, men det er nok den mest "normale" vej.
To leagues
Der er to leagues inden for The Major Leagues. Der er American League (AL) og National League (NL).
I American League er der 14 hold, mens der er 16 hold i National League.
Hver league har 3 divisions: East, Central, og West. Holdene er for det meste opdelt i forhold til regionen, de spiller i. Los Angeles Dodgers spiller for eksempel i West og New York Yankees spiller i East. Den eneste deciderede forskel på American League og National League er, at i National League batter pitcheren og i American League er der en DH (Designated Hitter) for pitcheren.
Der har altid været snak om, hvilken leauge der var bedst. For nogle år siden var NL kendt for hurtige løbere og god pitching, mens AL havde de gode hitters. Gennem årene har de to leagues udlignet hinanden, så forskellighederne næsten er forsvundet, men deres rivalisering er lige så intens som før. Hvert år spilles der en All-Star kamp ca. midt i sæsonen (også kendt som Mid Summer Classic), hvor de bedste spillere fra American League udvælges til at kæmpe imod de bedste udvalgte spillere fra National League. Holdet der vinder får ikke kun æren, men også hjemmebane i World Series. I år
(2003) vandt American League All-Star kampen og dermed får holdet, der skal repræsentere American League i World Series, hjemmebane.
World Series
Vejen til World Series er lang. Hvert hold skal spille 162 kampe i den regulære sæson, hvoraf de fleste kampe spilles mod hold fra deres egen division. Så er der nogle kampe mod de andre hold fra samme league, og så til sidst skal der spilles nogle "inter league" kampe, hvor hold fra American League spiller mod hold fra National League. Inter League kampene opstod i 1997, primært for at få mere interesse for Major League Baseball. De fleste Inter League kampe spilles mod en 'lokal' rival, som ikke spiller i den samme league.
For eksempel spiller Chicago Cubs (NL) og Chicago White Sox (AL) inter league kampe mod hinanden, det samme gør New York Yankees (AL) og New York Mets (NL). Efter de 162 kampe er overstået (den regulære sæson starter i begyndelsen af maj og slutter først i oktober), spilles der playoffs.
De 4 playoff hold fra hver league er de 3 divisionsvindere og et "Wild Card" (holdet der ikke har vundet en division, men der har den bedste record af de hold, der er tilbage).
De fire hold fra hver league mødes i hver sin "Division Series". Her mødes to af divisionsmestrene og samtidig møder wildcard-holdet divisionsholdet med den bedste record. Der spilles bedst af 5 kampe.
De 2 vindere fra "Division Series" i AL mødes i "American League Chapionship Series", og de 2 vindere fra NL mødes i "National League Championship Series". I "Championship Series" spilles der bedst af 7. De to league vindere herfra går videre og skal spille bedst ud af 7 kampe i The Fall Classic, nemlig WORLD SERIES. Sidste år var det første gang nogen sinde at to Wild Card hold mødtes i World Series, da Anaheim Angles slog Barry Bonds' San Francisco Giants. Hvem mon skal mødes i år?
Joe Klont, Copenhagen Fighters Baseball Club
---
The Danish Baseball Federation (DBaF) became the official organ for baseball in Denmark after the 29 November 2008 meeting of the Danish Baseball Softball Federation (DBaSoF). At that meeting, the DBaSoF was divided into two federations – DbaF and Danish Softball Federation (DSoF). February 15, 2009 DBaF become an official member of CEB and IBAF.  Until May 2008, the DBaSoF was the main governing body for organized ball in Denmark. However, the International Softball Federation pressured mixed federations in 2006  to split softball from baseball in member country federations related  to potential competition between the two sports for Olympic status after 2012, since only one sport could be chosen. However, the formation of World Baseball Softball Confederation in 2013 provides hope for baseball and softball reunification as one Olympic sport, as both the CEB and ESF, as well as the IBAF and ISF have signed collaborative contract agreements towards this end. Before these more recent historical events, there had been a hiatus in Danish baseball since 2005, when one team played in the Swedish Championship League. The years from 1992 to 2004 saw annual participation of at least 5 baseball teams in a Danish Championship League.
Early history of bat and ball games in Denmark dates back to the early 1800's and a variant called Langball was Denmarks most popular sport in the 1870s, even more than soccer. There are no written reports about actual baseball play in Denmark until 1923. Narratives handed down through Danish baseball-softball families describe the presence of baseball in Denmark in the first decades of the 20th century was mainly noted when the US Navy docked in Copenhagen and US servicemen on leave played baseball in the central park of Copenhagen. After that, a form of "baseball-softball" was played in schools, much like Danish rounders which is still popular today. The Danish Baseball Softball Federation was formed on June 13, 1978 when the first official matches were also played among 3 Danish clubs. After 1983 the baseball national tournament in baseball ceased to exist, as Danish clubs instead preferred to play fastpitch softball. Only in 1992 was the Baseball DM again revived and a baseball national team also participated again in European Championships. The senior national team participated in B pool-European Championships in 1998, 2000 and 2002.
There were no baseball leagues in Denmark from 2003, but only regional pick-up teams who, since 2009, have competed annually to play in Denmark's Baseball Cup. Most players have also played fastpitch softball in the Softball championship league. However a new Danish championship league consisting of three teams will start up in spring 2014 independent of the softball schedule. Baseball was BACK in Denmark!  
Uddrag fra bogen om Baseball i Europa:
Baseball in Europe isbn 978-0-7864-3724-5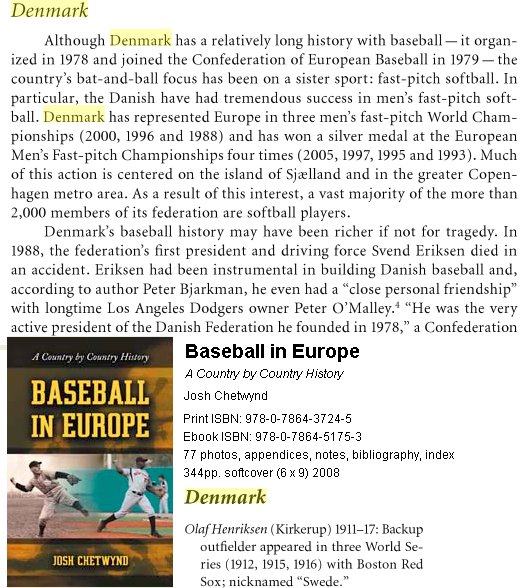 ---
Danske Baseball mestre gennem tiderne:
1978 HBSK Hørshold
1979 HBSK Hørshold
1980 HBSK Hørshold
1981 Munkene Gentofte
1982 HBSK Hørsholm
1983 HBSK Hørshold
1984 - 1991 No official DM held. ( ingen officielle danske mesterskaber afholdt !)
1992 Fighters (Copenhagen)
1993 HBSK Hørshold
1994 Ballerup Vandals
1995 Fighters (Copenhagen)
1996 Fighters (Copenhagen)
1997 Fighters (Copenhagen)
1998 Fighters (Copenhagen)
1999 Fighters (Copenhagen)
2000 Warriors (Copenhagen)
2001 Warriors (Copenhagen)
2002 Fighters (Copenhagen)
2003 Fighters (Copenhagen)
2004 Fighters (Copenhagen)
...
2011 Urban Achievers
2014  Copenhagen Softball /Urban Achievers
2015 Copenhagen Urban Achievers
2016 Copenhagen Urban Achievers
2017 Copenhagen Urban Achievers
2018 Copenhagen Urban Achievers
(Source Paperback Book : Baseball in Europe: A Country by Country by Josh Chetwynd) - og "Fighters Baseball Softball Club - Copenhagen, Denmark
se også:
http://da.wikipedia.org/wiki/Baseballs_historie
---
SOFTBALL
for softball resultater se evt. http://www.softball.dk/turneringen/tidligere-resultater/
eller
http://da.wikipedia.org/w/index.php?title=Softball
---